Start making Tanjore Paintings now!!!!!!


Tanjore Paintings are closely associated with various Gods. These paintings are mainly pictures of various Hindu Gods in various postures.

It is a painstaking process and good paintings often take a month or more to make. Nowadays, the process has been modernized to a great extent. Use of modern materials has increased.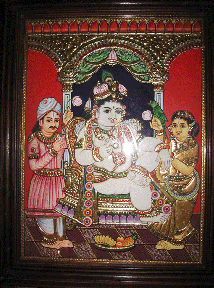 The process is simply explained below:

1.Obtain waterproof plywood and cut it into the required size.

2.Take a piece of white muslin cloth and soak in water to remove all the starch in it.

3.Use Fevicol (white glue) mixed with water and paste the cloth onto the board.

4.Mix French chalk powder, fevicol with water and yellow oxide. The board should be painted trice with this mixture. Make sure that the board dries well after each coating.

5.Smooth the surface using some smooth heavy object. Also use sand paper.

6.The canvas is now ready. Trace the picture of the deity onto the board with the help of a carbon sheet under your tracing paper.

7.Mix some French chalk with soaked gum Arabic and apply it at the base and other places where you are planning to stick the gold foil. Let it dry.

8.Apply white makku ( gesso) to all the required portion.

9.Stick the Jaipur coloured stones on all the places where it is required, for e.g., mandap, jewellery, crown, ornaments.

10.Pour gesso over the stones and areas you want to cover with gold. Apply more gesso to draw the outline and the markings on the leaves, mandap, flowers, birds.

11.After it dries up, remove the gesso over the stones with a wet cloth.

12.Now, apply the gold foil after the gesso dries up, to give the painting a rich look .Every small bit of white seen in the painting should be carefully covered with gold foil. Smooth the foil gently over the area, giving the area a smooth look.

13.If any gold foil is stuck to the stones, scrape out it gently.

14.Now, complete the picture with poster colours, starting with the body, hands, feet, and finally the face. The background is usually of deep colour like red, blue, or green, while the central deity if white, green or blue.

15.The Tanjore paintings are never signed. The artist remains anonymous.

16.Get the painting framed. The frame is usually wooden and sometimes decoratively carved.