South Indian Vegetarian Receipes
Rasam

Tamarind:One small ball
Tomato: One
Milagai podi:Half a teaspoon
Rasam podi: Two teaspoons
Dhania podi:Half a teaspoon
Asafoetida: Half a teaspoon
Tuvar dhal water:50 ml
Curry leaves: Two or three leaves
Coriander leaves: A little
Salt:To taste
Method
Soak a small ball of tamarind in a bowl of water. After some time, take out the extract. Cut a tomato into small pieces, and put the pieces in the bowl containing the tamarind water. Add required salt, asafoetida, the milagai podi and the dhania podi. Bring the mixture to a slow boil. After it has reached boiling point, lower the flame still further and add the tuvar dhal water and the rasam podi. And bring it to a very slow boil. As it starts frothing, switch off the flame, add some curry leaves and cut coriander leaves. Garnish with mustard, and asafoetida. Serve with rice.

Rasam Podi
Pepper Corns: 100 grams
Seragam or Jeera:100 grams
Tuvar dhal:100 grams
Dhania:100 grams
Method
Fry each ingredient separately in a frying pan without adding any oil. Leave it to completely cool on a newspaper. Grind the tuvar dhal first . Remove from the mixie jar. Cool. Grind the pepper second. Leave it to cool. Grind the jeera and dhania together. Now add the tuvar dhal and the pepper and grind together till all the four ingredients are nicely powdered and mixed together. Transfer to a dry jar.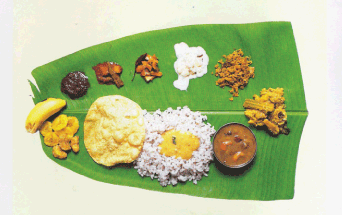 The all time favourite! Potato Fry ( serves four)

Potatoes: Half a kilo

Mustard: Half a teaspoon

Urad Dhal (Ullatham Paruppu):One Teaspoon

Tumeric (Haldi):Quarter teaspoon

Milagai (Chilly) podi: One and half teaspoon

Curry Leaves: A handful

Cooking Oil: Two Tablespoons

Salt:To taste




Method

Peel and wash the potatoes. Dice into small pieces. Add oil to the kadai (frying pan). After it is heated, put in the mustard seeds. After the mustard splutters, put in the urad dhal. Fry till golden brown. Quickly toss in the cut potatoes along with the curry leaves. Keep turning the potato in the frying pan and do not allow it to stick to the pan. After it is 50% cooked, add the tumeric, salt to taste, milagai podi. Lower the flame and fry till completely cooked. Serve with rice as a side dish.

Variations

Before adding the potatoes, add a onion, cut into fine pieces into the frying pan. Fry till brown and then add the potatoes.

After the onion is fried, you can also add cut tomatoes, and then add the potatoes.

Quick and Easy Sambar

Vegetables like drumstick, radish, pumpkin:200 grams

Tuvar dhal:100 grams

Chilly Podi: One and Half Teaspoon

Dhania (coriander seeds)Podi: Half a teaspoon

Mustard seeds : Half a teaspoon

Fenugreek Seeds ( Venthiam): Quarter teaspoon

Tamarind Paste: One teaspoon

Cooking oil: One teaspoon

Salt:To taste

Asafoetida: A pinch

Method

Add water to the tuvar dhal and pressure cook till it is very well cooked. Mash it well. Boil the vegetable in a pan using very little water. After the vegetables are cooked, add the cooked dhal. Add salt to taste. Add the tamarind paste, milagai and dhania podi and boil the mixture till you get a nice aroma. More water may be added if the sambar is too thick. Add the mustard seeds, asafoetida, and fenugreek to the heated oil and garnish the sambar. Serve the sambar with rice.

Vinayakar Chaturthi

Kuzhakattai with coconut filling (makes about twenty small kuzhakattais)

Wash and soak rice in water for 10 minutes. Drain the water and dry it in shade on cloth, till the rice is completely dry. Grind the rice and transfer the flour in a plastic container. The flour will be preserved if kept in a freezer.

Take half a cup of water in a pan. Add a pinch of salt and one teaspoon of sesame oil.

When the water is heated, remove from the fire and add one cup of the rice flour. Add another teaspoon of teaspoon oil, and stir the flour briskly till it comes into a ball. Cover the flour with a muslin cloth, till it cools down. Now, knead the dough gently till it is of a smooth consistency.

Filling

Take three-fourth cup of grated jaggery in a pan. Add a little water and heat a little. After all the jaggery is dissolved, strain the jaggery water so that all the impurities are removed. Take this jaggery water in a pan. Add one cup of grated coconut and three crushed elaichees. Stir till the two ingredients are mixed together and comes out into a ball. Add one teaspoon of ghee.

Method

Take a little of the dough and make it into a smooth ball with your hands. Flatten the ball on the palm of the hand. Take a little of the stuffing and put it on the flattened dough and then gently close, by making a cup with the stuffing inside.

Take all the kuzakttais and then steam on a idli plate for five minutes.

The kuzakattais are now ready.

Please visit my cooking blog Simple Cooking for Beginners

for more receipes